Managed Solutions with Unetek solves issues with most companies trying to manage internal solutions themselves. It requires a highly skilled support staff to keep up with all the alerts, fires and managed services. We take the worry away from utilizing managed solutions and provide 99.999% uptime to keep your company up and running.
Unetek caters managed solutions around your business, explains exactly why you need managed services and keeps you informed every step of the way. With Unetek, your IT fears are transformed into IT confidence.
The Unetek Four-Step approach: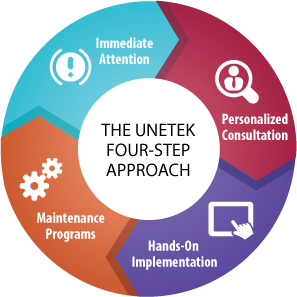 Personalized Consultation: Our qualified technicians assess your current system and evaluate your needs. Unetek prepares an overview of how your system works together, where potential problems can occur and how to meet your organizational goals. Unetek makes sure you understand exactly how your business is impacted by your current structure and how Unetek can help to overcome those hurdles.


Hands-On Implementation: The same experienced professional handles the implementation at your location. You can be sure a knowledgeable person is following the correct path to achieve the least amount of down time and the fastest recovery time to keep your business running.



Unetek's range of services include:

Backup solutions, including offsite backup
Set up of e-mail accounts and e-mail servers
SPAM and virus filtering
Network FAX servers
Network security
Thin-client solutions
Lost data destruction
Remote login capabilities
and more...

Maintenance Programs: Proper maintenance is just as important for computer systems as it is for cars. After the tools are in place for your network to run smoothly, it's always helpful to protect against and minimize any issues, ticks or viruses. The easiest way to do that is to utilize one of our maintenance contracts – it's almost like insurance for your computers. Each month, we will run the latest patches on each employee's computer and all of your servers, so that all machines are up to date. We also offer free over-the-phone support.


Immediate Attention: At this point, all of the work for a successfully operational network is in place. However, computers can sometimes be tricky and occasionally servers can go down. To aid in such a situation, Unetek's technicians are on call 24 hours a day, 7 days a week to physically come in and resolve the matter. We are experienced in handling a variety of emergencies and will get your systems back online and running in no time.