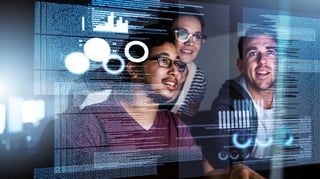 There is no doubt that Technology is everywhere in our daily lives. It wasn't that long ago that we went to the Yellow Pages (an actual book!) to find a company or product. Cell phones were for phone calls and cameras were for taking pictures. How did we communicate in business before Email? Hit or miss phone calls, snail mail and fax. It's hard to remember how business got done this way...
The simple truth: Technology makes life easier. It can accelerate and simplify difficult processes. This saves time. Time is money. So Technology saves Money. This blog will show you how you can save money on the technologies you use now and save even more by the thoughtful application of new technologies.

Over the past twenty plus years of working with various business technologies I have witnessed the old Ground Hog Day phenomenon - repeated common mistakes made and/or misconceptions held by clients and friends alike. Around ten years ago I started thinking that maybe others could learn from these mistakes, so I began to compile them into a journal. This blog will educate and advise on how to avoid them in your own business and reap the benefits. It will:
Point out common business technology issues
Offer steps to resolve the issues including tips, tricks and advice
Provide an analysis or evaluation of how this information will help you
Recommend a perfectly customized solution to fit your needs
Provide post resolution analysis of benefits

CONCLUSION:
All-in-all it's really quite simple. Take our advice and use it in your own business. Start saving money immediately to help your bottom line, get noticed by your colleagues or just make your business run more smoothly. Our next blog post will begin a series of tips, tricks and cheats that can offer tremendous improvements and efficiencies while also saving thousands of dollars for our clients.
---