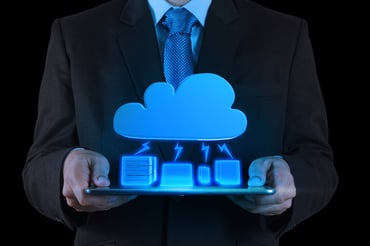 In the current technology world it seems that everything is "moving to the cloud". On a commercial level, many key business tools such as Microsoft Office have become cloud-based (Office 365). On a personal level, our iPhone and Android music, pictures and videos are saved and backed-up to the cloud. So what is "the cloud" anyway?
The Cloud is a really just a collection of data centers. A data center is made up of racks of data servers nestled inside a secure, always powered, always connected, disaster-resistant building. They come in many shapes and sizes from the 1.3 Million square foot Citadel in Reno, to a room tucked away in a multi-use office building. By this broad definition, there are three million data centers in the US. That's one (1) data center for every 100 people. Google by itself owns eight (8) data centers around the world. With the increasing need for connectivity and the growing importance of data we will see an additional 4,000 more data centers built in the US in the next 2 years. So how does business technology and more specifically, voice communications take advantage of the cloud?
Many of us are accustomed to the traditional style phone system where a phone system cabinet is located in an on-premise phone/server room and the desk phones are fed back to the phone system via voice cables. You order phone service from a carrier and your phone system vendor connects those lines to the phone system. Cloud-based voice solutions move the phone system from your server room to a data center (The Cloud) where connections to the public phone network already exist. You plug a VoIP phone into an internet connection and it goes out, finds the Cloud phone system and connects. Each phone is configured with the IP address of the cloud phone system and can connect from almost anywhere. So what are the advantages of the cloud voice solution?
Cloud Benefits:
No phone system maintenance or service calls from your phone system vendor
Easily scalable to add new extensions, phones and phone numbers
Subscription-based payment. (OpEx) versus capital expenditure (CapEx)
Many of the same basic features offered by traditional phone systems
Web-based end-user management of basic features as well as call routing and voicemail
Disaster recovery by simply moving phones to a location with power and internet connectivity
24/7/365 technical support through a NOC (Network Operations Center)
Redundant data center with always available power and internet connectivity
Cloud Negatives?
Is there a downside to Cloud voice solutions? One important downside to consider is the reliance on internet connectivity. If your office internet is down, so are your phones. Outside of having an expensive back-up internet circuit and the necessary connection hardware, there is little we can do to mitigate this risk. Also, the nature of Cloud (VoIP) phones is very basic. They are generic instruments meant to connect to a variety of service providers, so they lack many of the more advanced features we've come to expect from a traditional style on-premise office phone system. With these, a high degree of customization is possible. For example, with a traditional style office phone you can program a call-pickup button to retrieve a call ringing at a neighboring extension. With a cloud-based VoIP phone you would need to remember a feature code like *8 plus the extension number.
While the subscription-based payment structure may be the perfect fit for some organizations, it may be worth comparing. The cost per month gets to a tipping point when you reach a certain amount of extensions. For example, a Cloud hosted solution with 25 phones at the industry average $24.50 per phone/ per month, will cost $612.50 per month as long as they have the service. The cost to lease / purchase a traditional style on-premise 25 phone system would be substantially less; approximately $335.00 per month, and paid off in 60 months. With the cloud-based system, phone service is included in the monthly per-extension cost, where you would have to obtain this separately with an on-premise system, but even with this added expense it is still a lot less costly over time. Another consideration is service and support. Some companies prefer a face-to-face relationship with a phone vendor rather than dialing an 800 number for tech support. Companies who consider their phones to be business-critical but prefer the subscription-based payment structure of a Cloud-hosted solution would want to have the support of a network (IT) vendor to provide the proper equipment and managed services to ensure quality internet connectivity, monitoring and routing.
In The End
Both the traditional on-premise and cloud-based solutions can be viable options, depending on your preferred payment structure and overall communications needs. This is a situation where "one size" definitely does not fit all and companies looking for a new business communications solution would be wise to consider all options.
Vendors that only provide Cloud based service will, of course, push in that direction. Vendors that offer on-premise systems only will do the same. It only makes sense to work with a vendor that can provide either, for a fair and honest comparison.