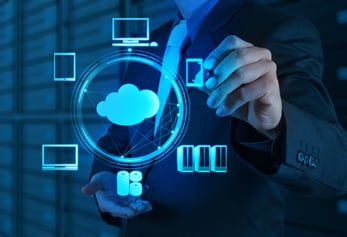 In a Blog post exactly one year ago, we asked
"Are you ready for Cloud-Hosted Phones?
" We explained what it was, how it worked and the pros/cons as compared to an office-based phone system. Fast forward one year into the depths of the Coronavirus epidemic and we find ourselves in a completely new work environment. The question we asked one year ago has a very different answer today


If you have an office-based phone system and have moved employees out to home offices, you are most likely forwarding calls to answering services or to cell phones or letting your voicemail system take messages while you follow up with clients; not ideal methods of conducting business.

If you have a Voice-over-IP (VoIP) office-based system you may have moved your employees and their IP phones to home offices where you are dealing with a variety of home networks, all congested with other home workers, kids gaming, Netflix and Zoom all competing for bandwidth. Add in the challenges posed by murky home modem/firewall configurations forced on you by your Internet Service Provider (ISP) and consistent quality becomes an uphill battle.
Top Tips:

For ISP issues, consider the following home network configuration to help achieve the best possible VoIP performance. Click here to find out how your home network rates when it comes to VoIP
VoIP office-based systems have the advantage of connecting your desk phone via the internet back to your office phone system, the idea being that your at-home IP phone should behave just like it was located in the office. But besides the home network challenges you can also expect to face a challenge getting a consistent and high quality connection through your office firewall/router to the phone system.
VoIP traffic is very different from data traffic. We can wait a few seconds to receive an email or a short delay in the download of a file (referred to as network delay or latency). Voice traffic, however, cannot. It MUST be delivered in real time. Latency causes packet loss which results in poor voice quality and dropped calls.
The office firewall/router plays an important role in how voice traffic moves between your office phone system and your home IP phone. If your router has more sophisticated features for sending voice traffic with a higher priority than data traffic (packet prioritization and Quality of Service) it will give your phone call the best possible chance to succeed along its route.
Important Note

: A common roadblock to quality voice traffic is a router setting called SIP ALG (Application -Layer Gateway). It was originally developed to improve VoIP traffic flow but has design flaws that make it impede the traffic it was intending to facilitate.

Make sure it's disabled!
The "New Normal"
Cloud-based phone systems, much like other cloud-based services, eliminates many of these issues. The "Cloud" is a secure data center with always-available power and robust, redundant, fiber-based internet access. This is a huge improvement over any average office. The cloud phone system sits behind sophisticated firewalls and routers with full packet prioritization and QoS being provided every step of the way. Each voice packet is not only prioritized, but monitored in real time to ensure the highest potential to reach your home IP phone without latency.
If you benefit from or require features such as mobility apps or unified communications (UC), an office-based VoIP system must still navigate your office network router/firewall and the issues we described above. With a Cloud phone system, these features are included seamlessly as part of the service.
Calls to a cloud-based phone extension can be routed to numerous devices. Depending on your subscription, cloud calls can be routed to your home IP desk phone, your PC or laptop, and even a tablet or a cell phone mobile app. It can ring sequentially to each of these until answered or it can ring all of them simultaneously assuring that no call will be missed. In the event that you have poor or no internet connection or even a power outage, the call will still ring via LTE to your cell phone. In the worst case scenario (no power, no internet, no cell signal) calls will be routed to your always-available cloud voice mail with a greeting explaining your current situation and when to expect calls to be returned, then take a message. You will be notified with a text. At the very least, your clients and vendors will know that their call was received.
2020 has brought many unexpected and difficult challenges. It's amazing how much can change in a year. Although Cloud based phone systems have been around for a while now, their utility has never been more clear than in the current, increasingly flexible work environment. As we have been forced to move our offices into our homes, the requirements for high quality voice traffic have become even more crucial. Cloud-based phone systems have become the new normal in how we communicate with clients, co-workers and vendors.